Logo Designs

You may be asking yourself why would you need a donor drive logo?

Basically, letting people know about anything requires marketing. One of the most effective visuals tools in marketing is to have a logo, a look, a color, something that helps people to understand what you do and/or helps them to recognize your brand (company, group, organization). Spreading the word about your drive is no different then marketing a product or business so using the same marketing tools will help your drive efforts to reach more people.

You Will Need:

• Graphic design skills or a Graphic Designer who can help you to create a logo design
• When printing the design you need the image file to be high resolution (usually 300 dpi). For use on the internet a low resolution works fine (usually 72 dpi).
• Put the logo on your business cards, postcards, signs, t-shirts, buttons, etc.

Cost: Free if you do it yourself or a friend helps out. Designers rates vary so be sure to ask for an estimate.
---
When I set out to design the logo for Helpng Tami I wanted something that would tie into the need to attract Asian ethnicity donors and to create something that would be both pleasing to the eye yet informative.

My thoughts went to the two most obvious elements: That she is Japanese and that the test kits now use mouth swabs instead of needles, making the testing procedure painless.
This is what I came up with: A sakura or cherry blossom with stamens of mini swabs. Later it evolved into a design incorporating an illustrated cartoon version of Tami.
---

This is the Team Anh logo. Anh is Vietnamese so her logo reflected an asian theme as well with a lotus blossom and swabs.
---
While breast cancer and the Susan G. Komen Foundation have made pink the synonymous color for breast cancer, the adopted color for marrow transplant patients is bright orange. Here
Team Haupt
incorporated the orange ribbon into their logo design.
---



Another Orange Ribbon logo by Project Michelle
---


Another Orange Ribbon Logo by Team Matthew
---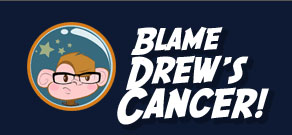 Drew Olanoff''s Website Logo