About Cristina
---
Hi, I'm Cristina Di Corte and I first of all want to say thank you for visiting my website. I am 22 years old and consider myself to be outgoing, have a good sense of humor since I love making people laugh, am caring, loyal, and although I don't like change I do like being able to have fun and try new things.

I currently live in Mississauga where I pretty much grew up my whole life. I was working in a salon as a hairdresser and I couldn't have beenn happier with my choice of occupation. I love doing hair, being able to be creative, talking to clients, and making more people feel better about themselves. It made me feel great knowing I could help people even if it was in a small way.

Four years ago my hopes for the future when it came to my occupation were to be able to work more often and create a bigger cliental. Not only would I have loved to do that but I also thought about possibly going back to school to receive a teachers degree to then be able to teach hairdressing. Now I am unable to work due to the progression of the disease which has caused worsening nerve damage in my hands and feet. I am no longer able to walk without the aid of a walker or wheelchair so am unable to be the passionate hair dresser I once was. I also now suffer from osteoperosis. My leg broke in January 2015 and I am still dealing with the consequences of that injury.
In my future I had hoped to be able to create a family of my own but now I won't be able to have children as my ovaries have been damaged so I won't be able to have children of my own. I have three brothers and three wonderful parents that have been there with me through the ups and downs throughout my life, have given me great guidance and have molded me into the person I am today. Growing up with three brothers has been interesting having me be the only girl, but I wouldn't want it any other way. Each one of them has their own unique personality. I hope they've learned a lot from me as I have from them. I am so proud of each of them and I am blessed to not only have great siblings but to have such a great family.

One other person that has made such an impact on my life is my one and only Danny, my boyfriend who I love so much. He is my best friend, he is one person I can definitely go to with anything knowing he won't judge me but is someone I can just be myself with. We are a lot alike and we love being together whether its running errands, or doing something completely different that either of us has never done before. He's a great person and I'm lucky I was able to find someone that makes me as happy as he does.
---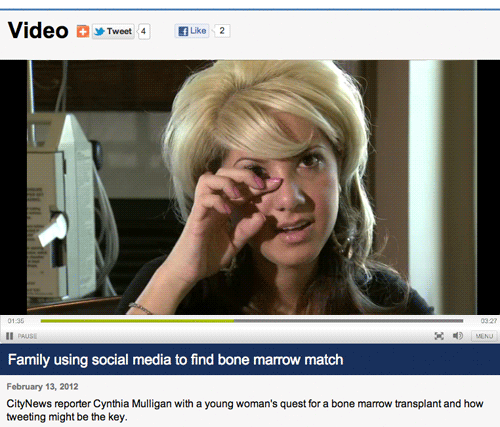 CLICK HERE to watch the Video on the CityNews.ca website
Please visit CityNews Toronto to watch the feature they did about Crisitna's marrow donor drive effforts on the 6:00 o'clock news. A special thanks to Reporter Cynthia Mulligan for spending the time with Cristina to help share her story so that the person who is her marrow match will see her and join the registry no matter where they live.