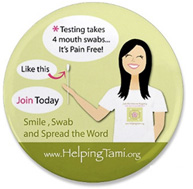 BUTTONS

You Will Need:
• To deisgn a button that will draw attention to your cause. It can be words or a photo or image



Cost:

You can make the buttons at home by purchasing a button kit online or purchase individual buttons at a craft store like Michaels or order them from a printing company like Cafepress.com. If you make them yourself you will also need a printer to create the artwork to include in each button.

---

Why have a Button?
Whether you set up a blog or website a button can help to raise awareness about your cause.Our experience was that buttons can catch the attention of people in your vicinity, say a colleague at lunch or a cashier at a grocery store. They may ask what your button is about. This gives you an opportunity to strike up a conversation explaining the need for more people to join the marrow donor registry and if you have a business card to hand them, can help to motivate and educate people about the need of patients worldwide.
When to Wear Them:
Pin to your shirt or jacket each day.
Pin them to your purse or backpack.
I pinned one to my dog's harness he wears when he walks each day.
If you wear a button be sure to carry around some business cards with you so that when people ask about your button you can direct them to the website to learn more about the donor programs and to order a test kit online or locate a local donor drive.
↑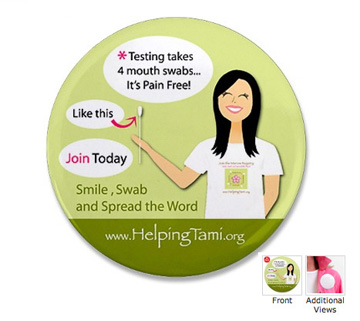 Even my dog Kitai wears a Helping Tami button on his walking harness.